A Lean Management System may be applied by any organization that wants to improve process performance in the eyes of customers, business leaders and employees. Lean is about creating customer value with a minimal amount of waste.  It is both a philosophy and a set of principles/tools.  It can be applied for the design of new processes and used to improve existing processes. Lean transformation is a never-ending journey to continuous improvement. It is especially effective for organizations wanting to reduce lead-times, use resources more efficiently, and create a culture of high employee engagement.
One of the most frequently referenced lean transformations is the Toyota Production System, from which many of these concepts were derived.  While the roots of lean are from manufacturing organizations, lean can be effectively applied in all types of businesses and processes. Other examples of successful lean transformation include:
Transformation to a Lean Management System begins with a leadership decision to make the transformation.  Organizations progress through multiple stages as part of a lean transformation.  While there is not always a clear transition from one stage to the next, the general progression follows the following five stages.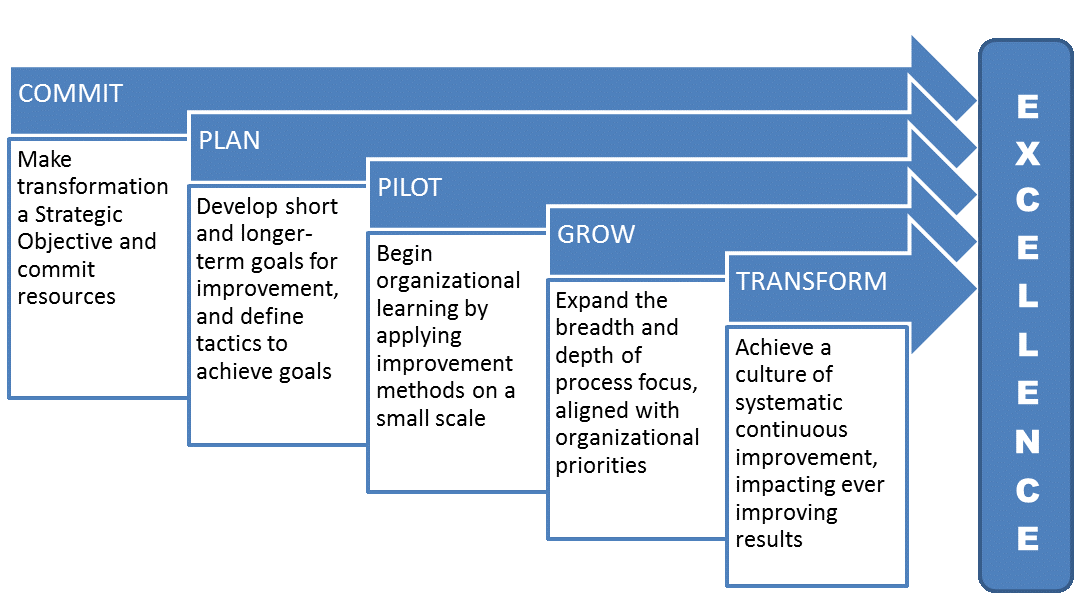 Partial List of Typical Activities by Transformation Phase
COMMIT
Confirm vision – Leadership decides to begin a lean transformation tied to a long-term vision
Assess culture – Understand the current work environment relative to a lean culture
Assess opportunities – Explore opportunities to apply lean for both quick wins and longer-term focus
PLAN
Time tables – Create action plans for 30 days, 90 days, 1 year and a longer-term roadmap
Define Roles – Decide the key roles that need training and define their responsibilities in transformation
Training – Begin training leaders and other key roles to get started and support lean transformation. Over time, training will expand in breadth and depth
Communication – Make sure all leaders, employees, and key stakeholders are aware of lean transformation plans and how it may impact them
PILOT
Demonstration Project(s) – Execute initial projects for the purposes of learning and achieving early results. Initial projects may focus on specific opportunities in a larger value stream or a specific area of the organization
Coaching – Begin coaching those involved in lean transformation to develop lean skills and behaviors. Begin to develop lean coaching skills for all leaders
Lessons Learned – Reflect upon initial projects and adjust approaches and future plans as appropriate
GROW
More projects – Execute more projects to advance learning and performance
More areas – Expand to more value streams and areas in the organization
More engagement – Build a culture of continuous improvement by all employees and lean management by all leaders
TRANSFORM
Track results – Align measurement systems with lean management systems and culture. Use results to guide planning and priorities
Innovate – Make meaningful changes that improve organizational effectiveness, stakeholder value, and competitiveness
Update – Practice organizational learning and agility, adapting transformation plans and approaches to meet the ever-changing needs and challenges of the organization
Reasons Why Organizations Adopt a Lean Transformation
Achieve Strategy – Many organizations have come to realize that pursuit of vision requires a new way of thinking, and lean transformation becomes a key strategy to achieve other goals and objectives.
Adapt to External Change – All companies deal with external change. Many will fall behind and/or fail without a systematic approach to respond to external change.
Build Capability – Effective approaches to transform translate to the ability to do more to satisfy the needs to customers, employees, and stakeholders.
Competitiveness – The ability to adapt and change quickly can be a competitive advantage.
Sustainability – Making the change isn't always the hard part. Inability to make change stick is why many organizations fail.
Are you ready to begin your lean journey?  Let us know and we'll help you get started!
About Er Ralston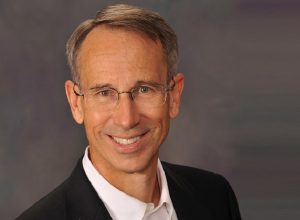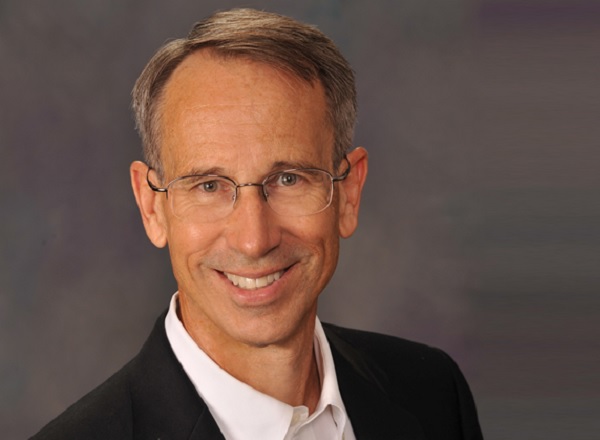 Er Ralston is an accomplished coach, trainer, and advisor, specializing in business process excellence, strategic and tactical business planning, Lean management systems, Six Sigma improvement methodology, and the Malcolm Baldrige National Quality Award criteria for performance excellence. Er brings more than 30 years of experience in numerous operations and quality leadership interventions. He is a Lean expert and certified Six Sigma Master Black Belt.